HIGH QUALITY PRODUCTS
The selection of the proper oil seal for a given sealing application is governed by the operating conditions under which the seal must function. To assist you in this selection, the following pages explain the conditions and limitations for which LYO seals are designed.
GROUP A SHAFT SEALS

One of the most popular designs, the seal, O.D. and the housing bore are pressfitted. The sealing function is accomplished by the sliding surface contact of the seal lip the shaft. a close lip shaft. a close-coiled helical spring is used.

GROUP B EXTERNAL SEALS

Oil seals are pressfitted onto a shaft, the lip and housing bore have a sliding surface contact. Used only for specific applications where shaft seals are not easily installed. Pitchcoiled springs are used on this type.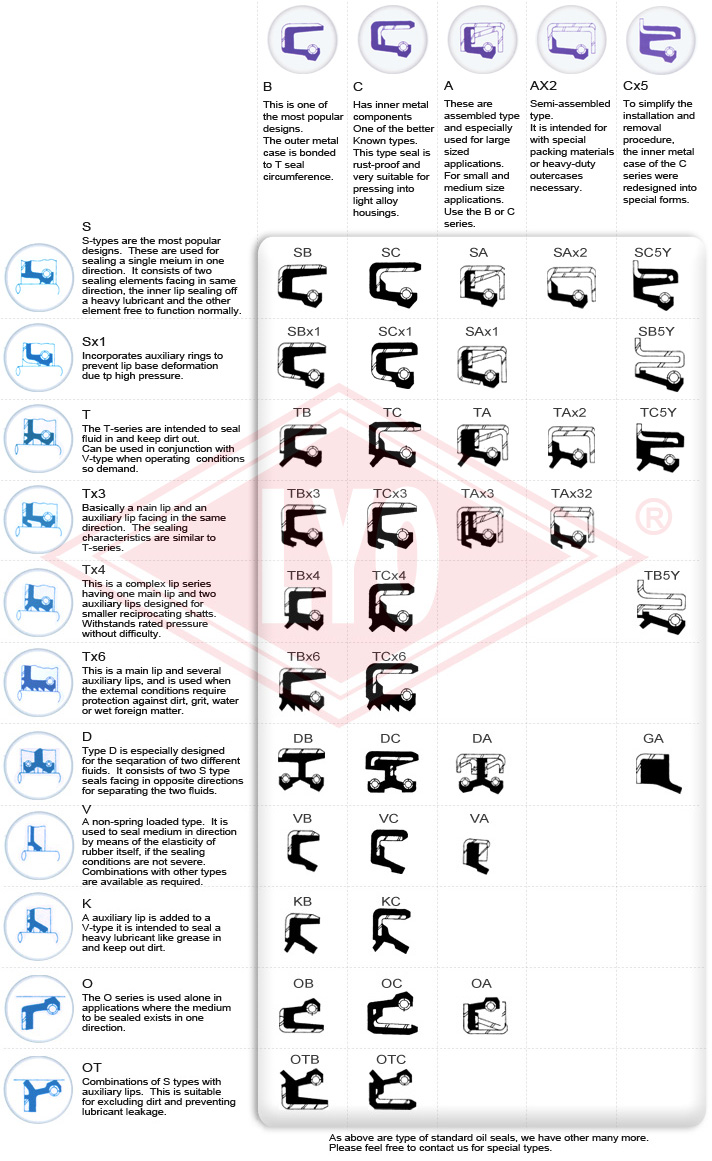 RUBBER TO METAL BONDING

BONDING RUBBER TO METAL
BONDED POPPETS
BONED VALVE SEATS
CUSHION SEALS
RUBBER ROLLS
SCRAPER RINGS
CUSTOM-MADE BEARING SEALS
RUBBER SEALS

O-RINGS
V-RINGS
U-CUPS
WIPER RINGS
PISTON CUPS
CUSTOM-MADE SEALS
MODED RUBBER

SPECIAL CUSTOM SHAPES
DIAPHRAGMS
SPECIAL BOOTS
FABRIC REINFORCED SEALS
BRAIDED PACKINGS
STATIC SEALS
GASKETS

RUBBER
ASBESTOS
VELLUMOID FIBER
CORK ; CORK-RUBBER
TEFLON
FIBER
FELT
SPONGE
TEFLON PARTS

TEFLON COATING "BUCKOTE PROCESS"
V-RINGS
O-RINGS
CUPS
BACKUP WASHERS
SLIPPER SEALS
SPECIAL SHAPES